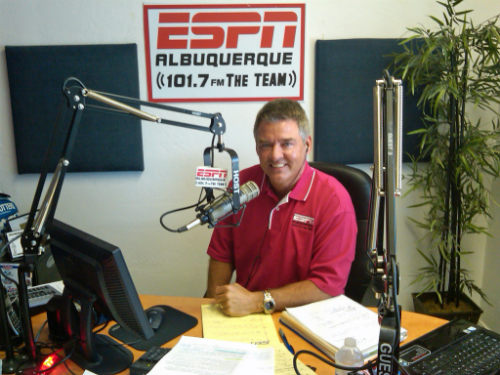 The Locker Room with Bob Brown is a live, locally produced sports call-in talk show. It was named the Best Sports Talk Show by the New Mexico Broadcasters Association in 2010. Bob was also voted the 2013 & 2014 Sportscaster of the Year by the National Sportscasters and Sportswriters Association.
A graduate of Troy State University (Ala.), Bob was named New Mexico Broadcasters Association Sportscaster of the Year in 2004, covered New Mexico sports for 18 years on KOAT-TV. He took over The Locker Room on March 16, 2009
When not working, Bob and his wife Cathy enjoy traveling and seeing new places.
Follow Bob on Twitter @BobBrown1017, and follow ESPN Radio 101.7 The TEAM @1017theteam.