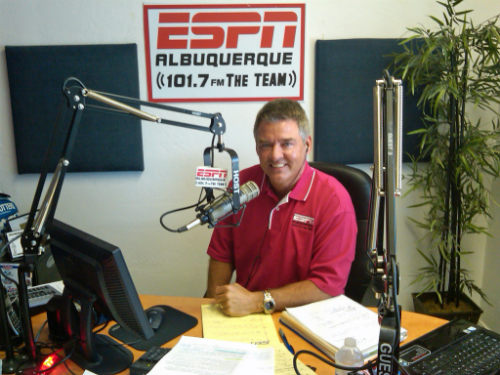 The Locker Room with Bob Brown is a live, locally produced sports call-in talk show. It was named the Best Sports Talk Show by the New Mexico Broadcasters Association in 2010. Listen to Bob Brown as he covers New Mexico sports in depth with an eye on the topics that affect the National sports scene. Bob, who was named New Mexico Broadcasters Association Sportscaster of the Year in 2004, covered New Mexico sports for 18 years on KOAT-TV. He took over The Locker Room on March 16, 2009.

Past guests appearing in the "The Locker Room" have included local and national sports personalities, athletes, and coaches such as New Mexico men's basketball coach Craig Neal, former Lobo great Danny Granger (Pistons), NBA standout Jason Terry (Rockets), local media members Van Tate (KRQE sports), J.P. Murietta (KOB-TV sports) and Albuquerque Journal beat writers.

Follow Bob on Twitter @BobBrown1017, and follow ESPN Radio 101.7 The TEAM @1017theteam.
Personalities Associated with the show:

Bob Brown

The Locker Room with Bob Brown is a live, locally produced sports call-in talk show. It was named the Best Sports Talk Show by the New Mexico Broadcasters Association in 2010. Bob was also voted the 2013 & 2014 Sportscaster of the Year by the National Sportscasters and Sportswriters Association. A graduate of Troy State…Read More

Mike Burt

Mike Burt is living his dream as the producer for The Locker Room with Bob Brown. Mike served as an intern for ESPN Radio in 2014 before joining the staff in a full time capacity in 2015. He graduated from the University of New Mexico in 2014 with an undergraduate degree in Journalism and…Read More