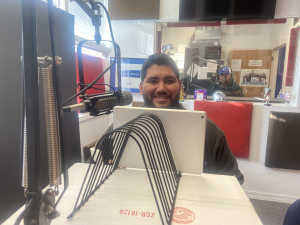 Ronald Lees Jr. (RJ) is a producer/videographer for the New Mexico Motorsports Report, as well as a co-host for Between The Lines live at the Isleta Sportsbook and Casino.
RJ started as a volunteer for the New Mexico Motorsports Report in 2018 working on their weekly event calendar before working on many shows in his tenure for ESPN Radio 101.7 The Team.
RJ graduated from the University of New Mexico in 2019 with a double major in Communications and Marketing.
RJ enjoys following professional sports but specializes in the NFL and NBA, with a goal to visit every stadium.
In his off time he enjoys traveling, camping, coaching, and spending time with his family and friends.