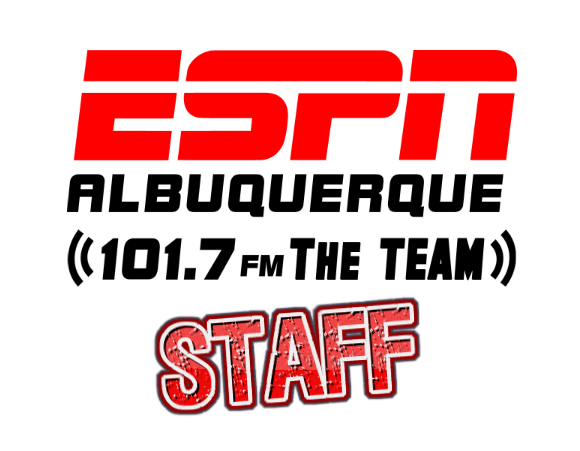 Joe O'Neill
President
505-239-4771
joe@1017theteam.com
Joe O'Neill is a native New Mexican who has spent the last 20 years in the radio business. He got his start as the Director of Sports Marketing at 770 KKOB-AM where he was an Account Executive specializing in creating and selling sports programming. Joe also had the privilege of being the color commentator for Lobo Men's Basketball for 8 years working with the "Voice of the Lobos" Mike Roberts.  Click here for full Bio 
David Dominguez
VP / General Manager
505-994-1017
david@1017theteam.com
David Dominguez is the Vice President and General Manager for ESPN Radio 101.7 The TEAM. He is also the host of On Point with David Dominguez on Saturday mornings. David began his career in broadcast in 1996 at KDAZ-AM and KCHF-TV, where he served as the Operations Manager. Click here for full Bio
Sal Ortiz
Operations Manager
505-994-1017
sal@1017theteam.com
Sal is the Operations Manager for ESPN Radio 101.7 The TEAM.
Sam Hauser
Producer
505-994-1017
Sam@1017theteam.com
Sam is the producer and Co-Host of TEAM Talk, which airs weekdays from 4-7 p.m.
He shares the same name as a basketball player. They look nothing alike, but a security guard once confused the two. He graduated from the University of North Florida in 2014 with a degree in Multimedia Journalism (Go Ospreys!).
Kelly Watson
Saturday Morning Producer
kelly@1017theteam.com
Kelly Watson is a producer for the Saturday morning shows, including The New Mexico Motorsports Report, FM Sports Saturday, The Team High School Show, and The Henry T Show. Kelly started as intern for ESPN Radio in 2013 before taking the lead producer position for the Saturday shows in 2016.  Click here for full Bio
Scott Galetti
On-Air Personality/Play-by-play/Webmaster & Social Media Director
Voice of the New Mexico Lobos from 2008 to 2013 covering UNM Basketball, Football, and Baseball games, Scott is the play-by-play voice of APS athletics on ESPN Radio 101.7 The TEAM.  Click here for full Bio 
Robbie Westby
Account Executive
505-417-1024
robbie@1017theteam.com