New Mexico United's homestand was in desperate need of a win to close it out on a high note. Against the always tough Charleston Battery, United threw as much as they could muster against them before falling 0-1.
Neither side could claim a 'win' in the first half of the match on Saturday. Despite the differences in the stat line, the clubs fought to a stalemate. United struggled to make anything happen in the final third but was good defensively. Battery controlled possession, but couldn't get an opener in six shots.
Coach Quill put together a different formation than what he, or United, has ever really done. While the teamsheet looked like a traditional 4-4-2, there was an exceptional amount of rotation into and out of the midfield depending on whether or not the club was in possession. When they were out of possession, Amando Moreno dropped back onto the left wing, creating more of a 4-5-1 while trying to regain possession in the midfield.
After the match, Quill talked about how the tactic played out, "In possession, we weren't the best versions of ourselves. Out of possession, we were awesome. We executed a game plan – eliminate space in behind that they're very good at taking advantage of. And they didn't create much. On the flip side, we didn't create much. I thought again, it was a really defensive match for both teams. And so, I feel like we've lacked that team collective defending the last four or five games and we got that tonight. And we scored three the other night. We get zero tonight. So our play going forward has got to be cleaned up a bit. Our passing accuracy – the number – it was really off tonight. So, we you take a look at it, grow from it and be honest with ourselves and figure out how to be the best version of self come next Sunday."
When United did have chances to get into possession, they were in more of a 3-5-2 diamond. Players were rotating up and around trying to create passing lanes. Multiple times throughout the half, United attempted to play route one football and go over the top to try and find Moreno, as the primary target. Try as he might, Moreno had very little help in the final third and his efforts went to waste. Neither of United's shots that found the frame of the net truly threatened Battery keeper Trey Muse.
United did shine defensively in the half, allowing only six total shots. The two that managed to find the frame were quickly handled by United's newest signing, loanee Andrew Thomas. Thomas looked sharp in the first half, distributing the ball well and making quick decisions in and around his area.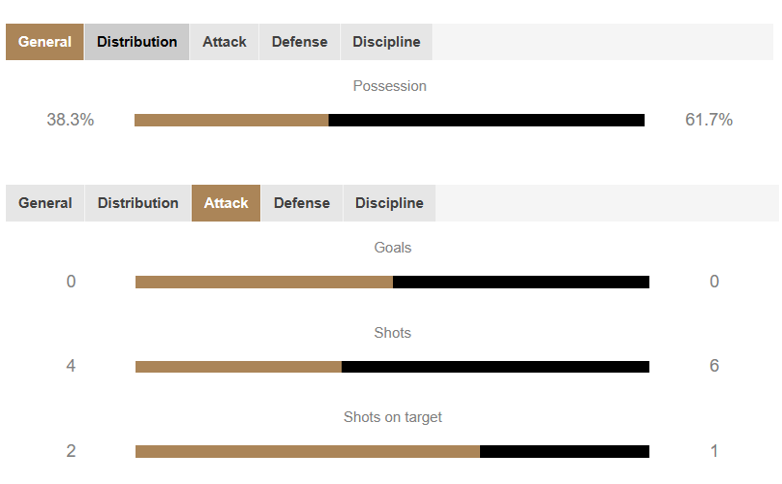 With everything to play for in the second half, it looked like United was finding their teeth earlier in the run of play. They were asking questions of the Battery defense, but none of Muse himself.
United was being driven by Moreno, but despite his best efforts, even a shifty move to slice through three defenders in the 72nd minute with what was the Black & Yellow's best opportunity of the night. He would end up taking the shot himself from near the spot, and unfortunately for the El Salvadoran, it would be deflected harmlessly away.
In the 74th, the match winner would ultimately be scored by the visitors. After winning a free kick outside the box, Arturo Rodriguez would deliver the ball to the far post. A series of headers then occurred, starting with Leland Archer, who squared it back to the middle where Nick Markanich headed toward goal before the ball took a deflection off the head of Augustine Williams from very close range and past Thomas, 0-1.
When asked about the set piece defending in recent matches, Josh Suggs said that it was a moment that they gave up. "Ultimately, we just need to take more pride in defending set pieces. I thought, for the most part, we were great defensively at set pieces. But it's one that kills you. It's hard, man. We had a great mentality all night. We were fighting and battling for each other. And in one moment, if you give up the moment and they take advantage and score. But we just need to take pride in (set piece) defense."
Player of the Match
Andrew Thomas – In his debut, Thomas was brilliant. He made the necessary saves in the first half to give his team chances to open the scoring. His distribution was varied and he showed an ability to pitch the ball up the field with incredible accuracy, starting off two attacks by himself. Despite his best efforts, United couldn't pick up the win or a clean sheet.
Up Next
United finally gets a few days off before they go back on the road. Their next match will see the Black & Yellow travel to Birmingham, Alabama to take on Legion FC on Sunday, September 10. Originally slated for a 3 p.m. kickoff, the match is reportedly being moved back an hour and a half due to heat concerns. Due to NFL obligations, the match will not be carried on ESPN Radio 101.7 FM The TEAM.