A mid-week draw against Sacramento Republic gave New Mexico United and its supporters a little bit of hope that the playoffs were still reachable. But, those hopes hinge on United picking up points against an incredibly tough schedule. That includes the cross-country trip from California to Pennsylvania to take on the Bob Lilley-led Pittsburgh Riverhounds.
The problem with that hope is that the Riverhounds have the best home record of any club in the entire league this season. Sporting an 11-1-3 record at Highmark Stadium, they've captured an impressive 36 points out of a possible 45 so far on their home pitch. The play of Albert Dikwa has been a large part of their success this season. With 17 goals, the leading scorer in the league has been an ever-present threat for the Riverhounds, no matter where they've played.
Bob Lilley's system continues to work wonders even after being at the helm for years. This club plays close to total football from front to back. The only club better than them defensively is Republic, and United struggled to find joy against the West Coast club. Don't expect the Riverhounds to slack off against United. They're still looking to secure home field advantage for the playoffs and will give United an incredible challenge on Saturday.
Player to Watch
Jahmali Waite – Waite has been phenomenal for the Riverhounds in his second season with the club. 23 goals conceded in 23 appearances and 9 clean sheets puts him near the top of the league in goalkeeping categories. Between him and the defense in front of him, United will have a hard time on Saturday night.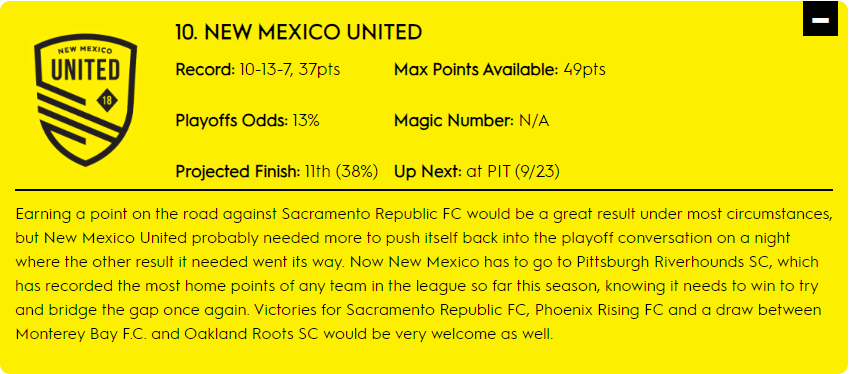 United needs help. They need to help themselves by not settling for a point, and they need help from around the league. The image above points out some of the results that would play into United's favor. There's still a chance they make the playoffs, but don't let the improved odds above fool you. It's a slim margin. The performance against Republic earlier in the week was fine. But, the Black & Yellow gave up far too many chances on the counterattack and found themselves having to play recovery far too often.
While the defense did enough to win, the attack was once again lacking in threatening entries into the final third. They had shots, but the accuracy was poor and Danny Vitiello was barely pressured. An equally talented keeper faces them this weekend and United's forwards have to be better than they were on Wednesday.
Player to Watch
Amando Moreno – Moreno looked good on Wednesday, but there wasn't enough going on to really allow him to be dangerous. He will need to find ways to work into space or be played through the narrow channels as he gets beyond the defenders.
Saturday night's match is scheduled to kickoff at 5:00 p.m. MT from Highmark Stadium. The match will be streamed live on ESPN+.